LOOKS AND USEABILITY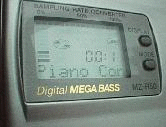 So this player is a natty little size, fitting easily in to most pockets (even jeans if they're not tight) and as said, is defiantly a looker with its brushed metal and silver highlights. It comes available in three different colours- silver, blue and orange, which means it caters for the different tastes, with them all looking pretty decent. It uses Sony's clam-shell design, meaning the top flicks up for you to insert the disk (like a walkman), now this may sound delicate, but it feels pretty tough (and gives an enjoyable clicking noise). On this panel is also a nice crisp LCD display, giving all the information you need- track name and number, disc title, times elapsed, left and to be recorded on, position of disk, date recorded, battery life, bass level and a sound level bar. It's all there to be accessed through a simple push of a button. But the buttons you see, are mostly pretty small (except the play, stop and cue) and fiddly, thus for people with even a standard size hand they can prove annoying. But you're also find most replicated on the remote too. The player also uses switches for several functions, including eject and record (the latter which I find a bit strange and annoying). What is a good idea though, is the handy jog dial that features on the unit. It allows for easy access to the tracks on the disc by browsing with the wheel, and then selecting them by pushing it in (it's also handy for titling).

Onto the remote, which overall I feel is a pretty good piece of design, although it does have its faults. Constructed like a long stick, with an LCD display taking up most of one side, and then with a 'twisty bit' at the top; to access tracks and to play the disc (see the pic left). The long display in my opinion flickers a little when scrolling, and can't show too many characters, but this isn't too much of a problem. It shows the track and disc title, times elapsed, left and to be recorded on, plus battery life. The other functions are accessed through several buttons (some also a bit too small) on the sides- volume, track mark, play mode, pause, and a hold switch (which I should also mention features on the unit as well), however it does lack a bass boost button. It again looks pretty decent following the contours of the headphone lead nicely, and with a small clip to use on a jacket or something. Thankfully it uses a standard 3.5mm plug (unlike past Sony models). The main fault I find with the remote though is the way the LCD is situated, because whenever I (being right handed) go to access it, everything's upside down. This might just be a personal thing, but be warned.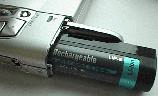 One more thing on a linked note is the battery life, which is a real good plus. 12 hours playback on the lithium rechargeable battery alone is great. This means you won't find yourself needing to recharge every other day, or come to use it only to find it's flat. Using the AA dry cell add on pack also gives even longer life with extra hours (7+12 doesn't = 22). I don't know how they do this, but hey, who cares.
Looks and Useability
Playback and Sound
Recording and Editing